Making sure all our residents receive the care they need is our main priority.
Here at Stanley Total Living Center, we want to ensure that our services meet the standards and expectations of our residents and their families.
Our team strives to make sure everyone's stay at our center is comfortable, stress-free, and enjoyable by always improving and expanding our offerings.
We offer various levels of care depending on each resident's individual needs and requirements. We offer various levels of care dependent upon each person's individual medical needs at any given time as determined through routine assessments.
Read all about our care levels and services below to see which level will give you or your loved one the best experience possible while staying with us.
Book a Tour Today
Personal item labeling for laundry services
We have a unique system of labeling laundry to ensure personal items are returned in a timely manner. These services provide families with a form that they can use to request labels for clothes belonging to their loved ones.
If you'd like to request labels for your family members staying with us then click on the link below to download our form.
All you have to do is print it out, fill it in and bring it to the laundry area, along with the clothes that need labeling, next time you're visiting.
Download Label Request Form
Available Services at Stanley Total Living Center
Our residents can take advantage of our rehabilitation programs. Here we can help maximize your abilities and restore independence, helping you return to a regular routine.
Under the direction of a personal physician, all of our rehabilitation programs are designed around each individual's needs.
Our trained therapists, nurses, and nursing assistants use goal-oriented methods to help encourage independence and get residents to a point where they can live by themselves once again.
After the therapy program is over, the restorative assistant and nursing staff will continue to work with you while you stay at Stanley Total Living Center.
There are three types of therapy programs available:
1. Physical therapy
Physical therapists work with our residents to reduce the amount of pain they feel while improving their strength, endurance, balance, and ambulatory skills.
This helps improve their ability to walk, move up and down the stairs and even allows them to get out of bed without any assistance.
2. Occupational therapy
Occupational therapists teach our residents skills to help them live more independently. This includes ways of dressing themselves, personal hygiene, using adaptive equipment, and homemaking.
3. Speech therapy
Speech therapists help our residents regain their speech and language skills as well as the ability to swallow.
All our in-house therapists are Medicare certified and offer family training as well, during home visits upon your request.
We're dedicated to encouraging all of our residents to think positively and work towards their goals, one step at a time.
Many of our residents and their families find it helpful to discuss their needs with our social service staff members. These specially trained staff members can help you with any medically-related social or emotional concerns. 
Social Services staff will work with each family and resident from Day 1 on discharge plans, including transitioning back into the community, or long-term stay needs
If you or your loved one has experienced a stroke, illness, or injury then your independence may be limited.
Restorative nursing, partnered with our wonderful therapy department, aids residents in doing more for themselves and helps them gradually become more independent.
We can't stress enough how unique every one of our residents is which is why all our restorative nursing plans are tailored to meet your needs.
Our team of restorative nursing assistants and therapists work closely with physicians, family members, and of course the residents themselves to ensure positive results.
We help retrain residents in various daily living activities such as:
Eating – to help improve independent dining
Dressing – to improve pride in the appearance
Bowel and bladder continence –  to regain dignity
Ambulation –  to increase strength
Grooming – to restore good health habits
Whirlpool bathtubs –  to improve circulation and relax muscles
Led by our fantastic Director of Nursing, our nursing care staff always ensures that your personal physician's orders are constantly followed during your residency. This includes therapy, nutrition, and medication.
Our team will put together a care plan that fits your needs and requirements including details on whether you require acute care following an illness, a special diet, rehabilitation, or even extra assistance throughout the day.
The nursing care team is made up of trained and licensed nurses and nursing assistants that are experienced in meeting the needs of older adults. They're dedicated to making sure every resident is comfortable throughout the day and most importantly they take the time to get to know you better so they can learn how to meet your individual needs more efficiently.
Are you interested in any of our services?
Contact Us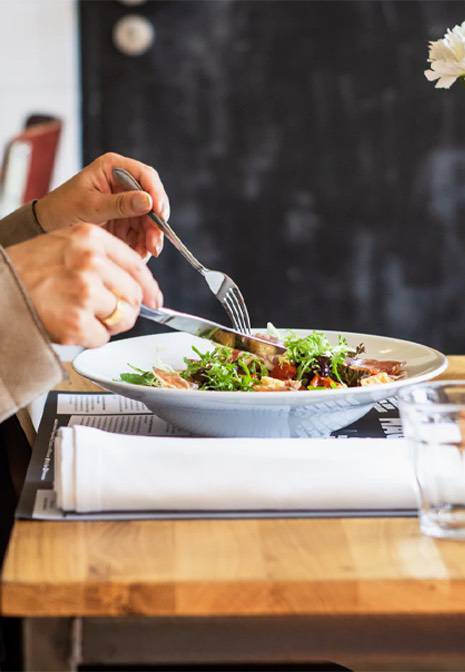 Dining and Nutrition
Our dining room is where our residents can enjoy home-cooked meals served restaurant-style. You won't have to worry about grocery shopping, cooking, or even the cleaning while you stay with us – or the clean-up!
Our dedicated team prepares three meals a day and snacks are always available.
Holiday meals, luncheons, and picnics are also celebrated with special meals.
Every meal at our center is prepared with each resident's dietary needs in mind. If your doctor recommends a therapeutic diet, our Registered Dietitian will make sure your nutritional needs are met.
Mealtime at Stanley Total Living Center is a time to relax, socialize and give thanks.
Activities and Events
The activity director at Stanley Total Living Center is in charge of planning a diverse, well-organized, and lively schedule of activities daily for residents in the assisted living and skilled nursing areas of the facility while the Apartment Manager works directly with residents in the independent living apartments to plan group events..
We encourage our residents to participate in everything that interests them. Whether it's an old pastime or something they've always wanted to try, our team will give them the opportunity.
Some of our residents enjoy relaxing with a good book, working on a jigsaw puzzle, singing songs, writing a story, or letting their grandchildren beat them at a board game.
You'll be busy every day here because we love to disprove the notion that the only thing seniors do all day is sit down. Of course, if you're the kind of person who wants to relax and take it easy then that's all good with us too.
Our goal is to always help everyone enjoy their stay as much as possible.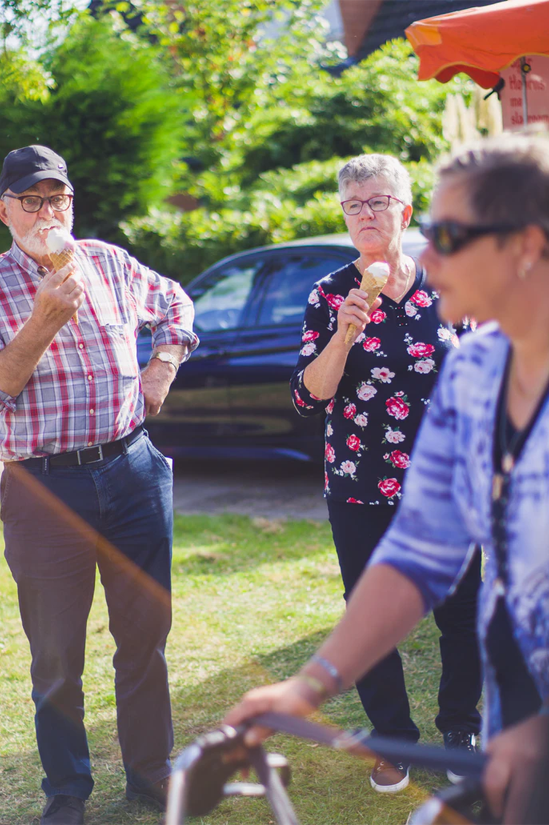 Find out why so many residents choose to call us home
Book a Tour